Imagine this scenario: You come home to discover your home has suffered severe water damage. You contact your insurance company, submit a claim, and are told the damages will be completely covered. Unfortunately, the damage is so extensive that your family will need to stay in a hotel until repairs are complete.
Confident that you're in good hands, and that your insurance company is on your side, you pack up your belongings and spend far too long away from home, waiting for the day you can move your family back in.
The day finally arrives when you're able to return home. As the last of the repair bills are paid by your insurer, a thought crosses your mind: Should you really be expected to pay out-of-pocket for that hotel room? After all, you never would have been there if your home hadn't been damaged, and you needed to leave for safety reasons. Shouldn't your insurance company be in charge of this expense, too?
This is what we call an Additional Living Expense (ALE). An ALE is considered any expense incurred in order for you to maintain your standard of living while recovering from a loss.
More often than not, homeowners either are not aware that their insurance company should be covering these costs, or their claim for reimbursement for these expenses are denied and the homeowner assumes that this is "the way things should be." After all, the whole reason you bought homeowners insurance was so that they'd be there for you to when you needed them most. They wouldn't stoop so low as to refuse to pay you for something they owe you for, right?
In our line of business, this is an unfortunate truth. Your insurance company is a business, and businesses need to make money. The only way to make money is by paying for as little as possible.
At Wheeler, DiUlio, & Barnabei, want you to know your rights. You may be eligible for reimbursement for several ALE's, some of which may have never even crossed your mind, and many of which your insurance company will never tell you about. You need to be knowledgable of your rights, and aware of what you should be receiving money for.
That's why we've created this helpful Additional Living Expense Checklist: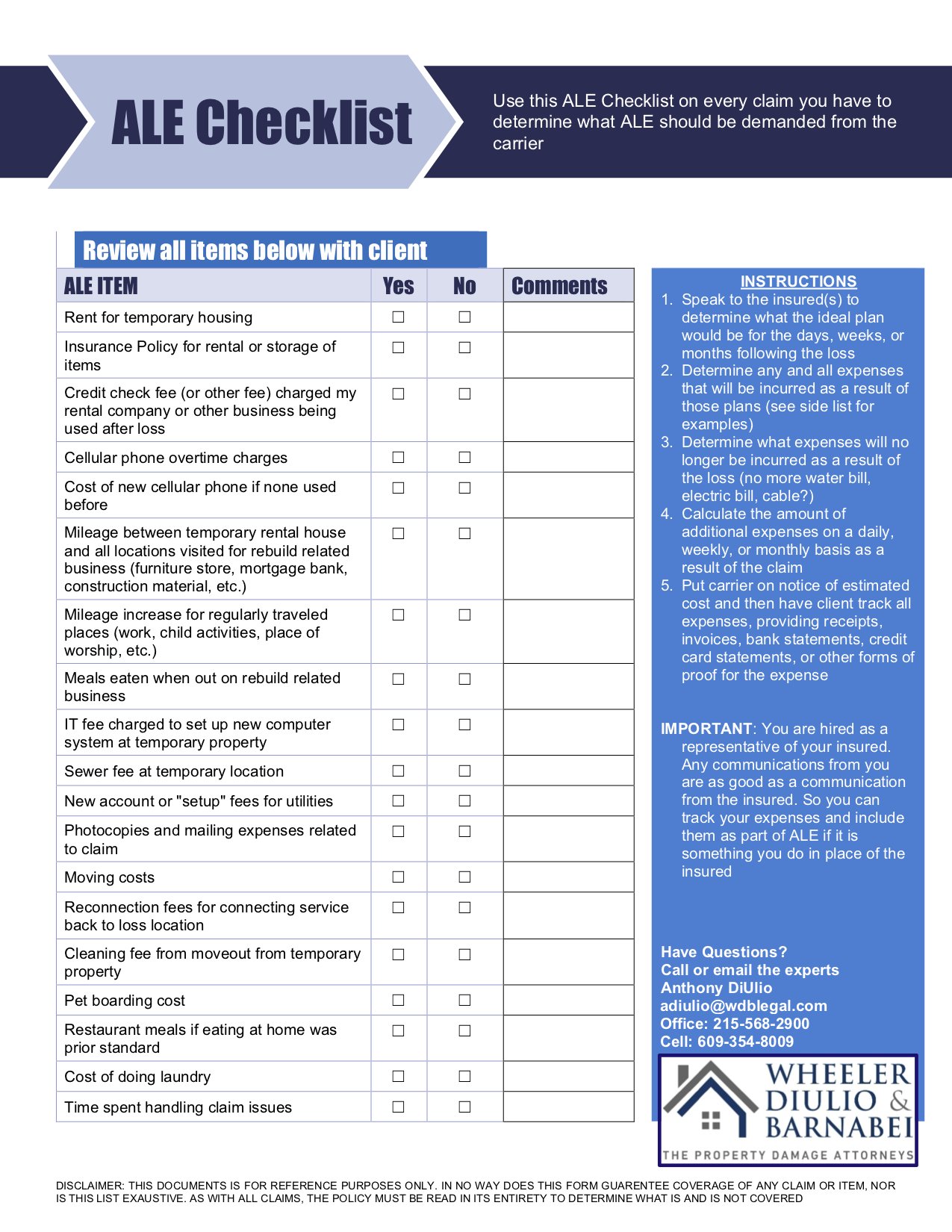 Click here to download the PDF, and give a copy to your public adjuster. They will walk you through your claim, helping you mark off all of the additional expenses that will occur as your damages are being repaired.
If you have any more questions about a recent loss, want to discuss the items on our additional living expense checklist, or if you just need help understanding your insurance policy and what it covers, we're here to help. Click here to speak with an attorney at Wheeler, DiUlio, & Barnabei.