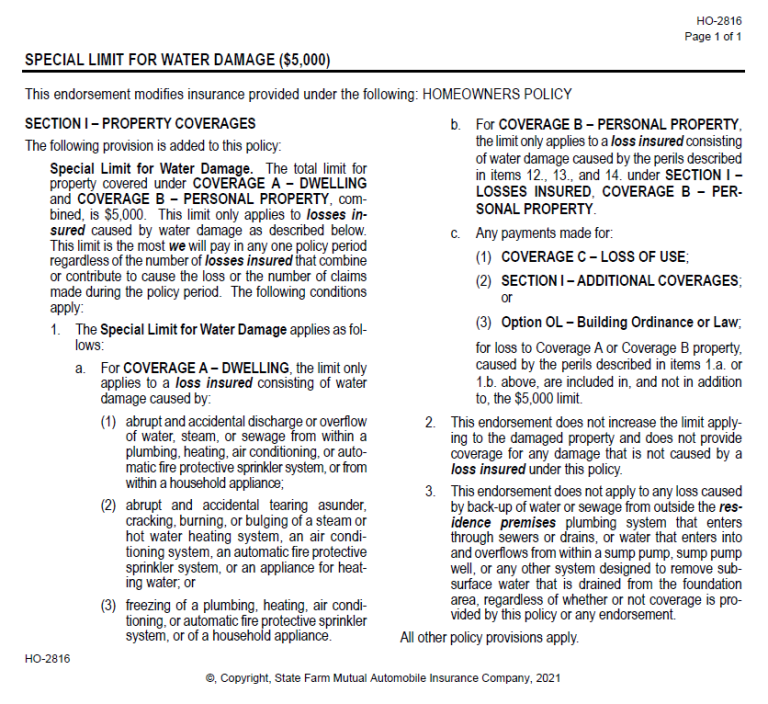 In an industry controlled almost entirely by one side of the equation (despite the best efforts of organizations like AAPIA), there are often times when new manipulations are presented that many people don't realize would be truly detrimental to their protections. This is one of those times.
The New State Farm Special Limit for Water Damage Coverage Endorsement
Throughout 2021, State Farm presented new endorsements to nearly every state insurance department. This endorsement, titled "SPECIAL LIMIT FOR WATER DAMAGE" provides for special policy limits between $5,000 and $25,000 for water damage from plumbing leaks (including hot water heaters, air conditioners, sprinkler systems). While these endorsements have been approved by many states, in my review, State Farm has failed to address how any insured could ever know if this was a good idea or bad idea to get this endorsement. Spoiler alert, IT IS NEVER A GOOD IDEA TO GET THIS ENDORSEMENT!
The Process for Approval
State Farm will inevitably try to hide behind the fact that this endorsement was approved by the insurance departments, therefore it must be fair and ok. I cannot stress enough, approval or not, this endorsement is not ok. Taking a look at the filings available publicly via the SERFF system, some departments recognized the concern, asked State Farm to explain, and then got a broad answer that never addressed the issues. Here is an example:
NJ Insurance Department: "Please explain how/why a new applicant and an existing insured would determine it is appropriate for them to select a lower limit for water damage losses? Please provide related examples as well as explain how the lower limit options for water damage would be known by the customer and how they would be presented by the agent?"
State Farm Response: "If a policyholder feels they do not need the full amount of water damage coverage provided by the base policy, they may be interested in reducing their coverage in exchange for a premium reduction. The Special Limit for Water Damage endorsements give the customer the flexibility to adjust their coverage to match their needs. Factors influencing the policyholder's decision may include whether their home has experienced water losses in the past and the frequency or severity of those losses, if any. The construction style of the home could also be a factor. For example, a one-story home on a crawl space might have less significant water damage than a two-story home with a finished basement. The presence or absence of a fire protective sprinkler system may also impact the potential exposure to water damage. The option to select a Special Limit for Water Damage endorsement is available to both new and renewal business and is included on the Homeowners application. If the customer selects any of these four endorsement options, the water damage coverage limit will be printed on their Declarations page as part of the endorsement title. The Special Limit for Water Damage endorsements are 100% optional and will only be added to a policy when the customer specifically requests them. By introducing these new options, we are providing customers with more choices and more flexibility to customize their insurance."
This response outlines what State Farm looks at as potential factors a person may consider, but never says that any of this will be explained to them. More importantly, none of this addresses the fact that the majority of water leaks, which most of the time involve some level of kitchen or bathroom work, cannot be done for $5,000 or even $25,000 in most cases.
The Risks and Problems with this Endorsement
The endorsement as presented would effectively limit plumbing leaks to the lower limit of coverage in that endorsement. So even if you had $500,000 coverage limits for your home, if the plumbing in your bathroom leaks and requires $35,000 to repair the water damage and access to the pipes, too bad.
The biggest problem here is that there is no evidence or even a suggestion that this will be explained to a person before agreeing to this coverage. What is far more likely is that the person will be presented with two policies, one with a higher premium and one with a lower premium. If they are lucky, they may ask why the one is lower, and they will likely be told something like "The lower premium just has a separate limit for water damage but you're still covered for the water damage." Of course, there is no way of knowing exactly what insureds will be told until it happens, but the risk is clear.
What You Should Do
Avoid these endorsements. Educate others about them when you can. Check your policy to make sure it isn't already on there.
In the end, we may not be successful in getting insurance departments to condemn this language, but that doesn't mean people need to purchase it. If people truly understand the risks of this language and how detrimental it could be, I am hopeful that they will make an informed decision.
If you have questions about this or are faced with a problem as the result of this endorsement, give us a call and we will see what we can do to help. Contact Wheeler, DiUlio, & Barnabei at 215-971-1000 or email [email protected] with your situation.